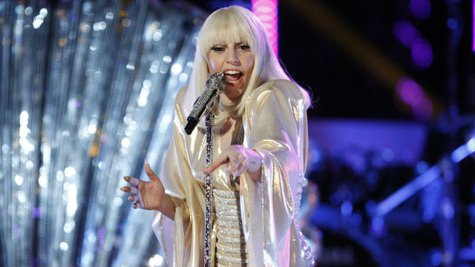 Lady Gaga's stage name came from "Radio Gaga," a song by legendary rock group Queen , of which Gaga is a huge fan. So it's no wonder she was over the moon after she joined them onstage Tuesday night in Sydney, Australia.
"I just played with Queen I'm the happiest girl alive!" tweeted Gaga, after singing "Another One Bites the Dust" onstage with her friend Adam Lambert , who's currently serving as Queen's frontman. Their much-loved, flamboyant lead singer, Freddie Mercury , died of AIDS-related complications in 1991.
Gaga also posted several Instagram photos of herself onstage, writing , " Tonight I felt alive in a way I have not before. I returned to the Radio GaGa mothership to pay homage to my leaders. It was emotional and wild. " She captioned another pic with the hashtag "#dreamscometrueItellYou." Queen guitarist Brian May posted a photo of himself with Gaga, calling her "our great and lovely pal."
Adam also got into the act, posting several photos of him and Gaga together onstage and backstage .
Musical chameleon that she is, Gaga can go from singing with one of the biggest rock bands in the world to singing jazz standards with Tony Bennett . She's just announced that she and Bennett will be the stars of H&M's holiday campaign, as a tie-in with their forthcoming duets album, Cheek to Cheek.
Follow --ABCNewsRadio Copyright 2014 ABC News Radio