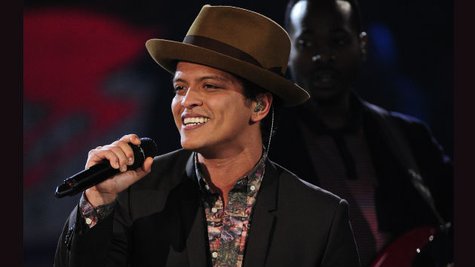 When it comes to music, Americans apparently prefer an English accent. A new unscientific Harris poll reveals The Beatles are America's favorite musician or band.
The online poll of over 2300 Americans found that the Fab Four are #1 on the list, followed by the late King of Rock and Roll, Elvis Presley . Beyonce ,who wasn't even on the list the last time the poll was conducted back in 2010, places third this time around. Legendary rockers Led Zeppelin are also new to the list, debuting at #4, while country icon George Strait is #5.
Yet another newcomer to the list: Bruno Mars , who debuts at #6. Rounding out the top 10 are four artists who all tied for the #7 spot: Neil Diamond , The Eagles , Garth Brooks , and Celine Dion. Only Celine was on the list in 2010.
Whose fortunes have fallen? Artist who were in the top 10 in 2010 but failed to make the list this year include Lady Gaga , U2 , the late Frank Sinatra , and country stars Tim McGraw , Rascal Flatts , and Alan Jackson .
Breaking down the poll demographically, we find more men cited The Beatles as their favorite band, while women chose Beyonce. Among younger fans aged 18-37, it's Beyonce, while Gen-Xers aged 38 to 49 say Metallica is their top group. Baby Boomers, aged 50-68, choose the Beatles, while those 69 and over say country icon Willie Nelson is their favorite.
When it comes to politics, there's one thing on which all parties can agree: when asked to name their favorite musical acts, Republicans, Democrats and Independents all chose The Beatles, while Republicans also chose Willie Nelson, and Democrats also chose Bruno Mars. East Coast and West Coast respondents, as well as Southerners, chose the Fab Four as well, while Midwesterners voted Bruno Mars as their #1 pick.
Follow --ABCNewsRadio
Copyright 2014 ABC News Radio