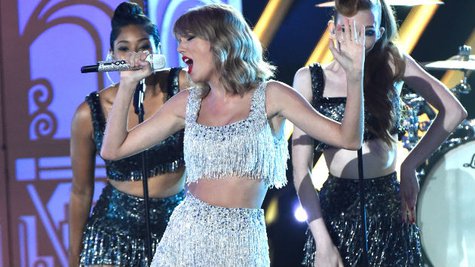 Taylor Swift is a few months away from releasing her new album, 1989 , but she says she's already imagining what the songs on the disc will sound like onstage when she launches her next tour.
Speaking to London's Capital FM radio , Taylor says, "I'm always thinking about the tour. As soon as I write a song, I start thinking about...'Would this be in the set list? Where would we put this?' So I'm always thinking about that, 'cause it's my favorite element of things."
She adds, "When you put out a song, and then you get to out into the crowd...and just see everybody singing the words back [to you], it's a pretty surreal moment."
Taylor gave us a preview of what her tour might look like on Sunday night's MTV VMAs, when she performed "Shake It Off" in a number that's been described as a cross between Madonna's "Material Girl" video and The Great Gatsby.
The singer will certainly be going non-stop for the next few months, gearing up for the album release and planning the tour, so it's no wonder she recently told the British paper The Guardian that romance is the farthest thing from her mind.
Asked if she values her close female friendships -- with the likes of Lorde and Lena Dunham -- over having a boyfriend, Taylor says, "Without a doubt. Because the other alternative isn't really possible right now. It just doesn't seem like a possibility in the near future. It doesn't ever work. What works is having incredible girlfriends who I can trust and tell anything."
Follow --ABCNewsRadio
Copyright 2014 ABC News Radio