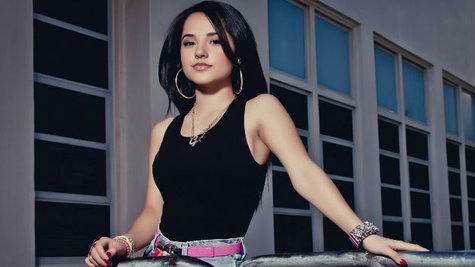 Becky G was a huge presence on the MTV VMA red carpet over the weekend, and now the teen singer is preparing for a very busy fall: she'll be serving as the opening act for not one, not two, but three big stars on tour.
Jason Derulo , Demi Lovato and Katy Perry will all be bringing Becky G along on at least part of their tours this fall, and Becky tells ABC News Radio what she'll be bringing to the party every night. "Lots of energy, I guess!" she says. "I have so much fun when I make music and I have fun when I'm on stage, and I like kind of making it a big party when I'm up there."
"I guess you can just look for a very action-packed set," she laughs. "I love performing and entertaining people, and now that I get to do it on such a big level, and opening for such amazing artists that I look up to, it definitely is a blessing."
One song Becky will definitely be performing each night during those opening slots will be her current hit "Shower," and she says it's already getting lots of love from whatever crowd she happens to be singing it for. "It's insane!" she tells ABC News Radio. "The reaction that 'Shower' gets when I perform it, it's a great feeling, especially being a writer on the song...for people to sing your lyrics back to you is just crazy!"
"Shower" is about that feeling when you first fall in love, and Becky says when she, her producer Dr. Luke and some other co-writers were working on the song, they had to work hard to make sure the song sounded like it was coming from the heart.
"It was funny because when we were all in there," she recalls. "And we were like, 'OK, how do we do this...riding that fine line of, like, cheesiness?' You gotta make it cool, so it's not cheesy, but yet still kind of cheesy, so it's like, 'Aw, that's so sweet!' So it was fun. It was a fun process making 'Shower.'"
"Shower" is Becky's first top 20 hit, and she thinks that what's helped the song strike a chord with people young and old is the fact that everyone has experienced that rush of first love.
"It's one of those feelings that people are [either] going through, dream about going through when you're young, and then, when you're older, it's so easy to go back to that feeling like it was yesterday, when you met, y'know, the love of your life, or whatever it was," she explains. "So I feel like it's just one of those songs that literally anybody can connect to."
Becky will join Demi Lovato's tour starting September 14. She'll hop on Jason Derulo's tour October 21. In between those two tours, she'll open a couple of shows for Katy Perry.
Follow --ABCNewsRadio
Copyright 2014 ABC News Radio