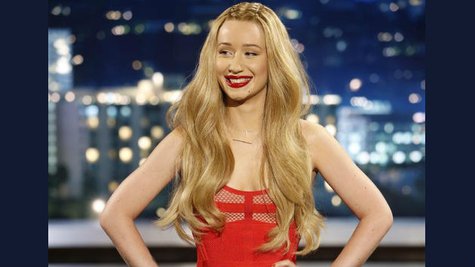 If you're an Iggy Azalea fan, you probably know that her birth name is Amethyst Amelia Kelly , and she got her stage name from her dog, Iggy, and Azalea from the street her mom lived on. But it turns out the story is a bit more complicated than that.
Iggy's the first artist to be featured on the new VEVO series A.K.A, where stars explain how they got their wacky stage names. In the segment, Iggy explains that the evolution of her stage name is actually a "two-part saga." First, the "Iggy" part. Yes, it came from her Australian cattle dog, Iggy, who was named after punk rock legend Iggy Pop . But it turns out the dog was a total playa who was not to be messed with.
"He's kind of a rock star. I thought he was gonna die on my birthday party one time 'cause he got into a fight with the dog next door, 'cause he got that dog's girlfriend pregnant," Iggy claims. "They were trying to purebreed puppies, and my dog came in and was kind of the man -- like, macked on the dog, like 'Whass up ?' and the puppies came out the wrong color. They came out the wrong breed!"
"One time he got bitten by a snake...he couldn't move his legs," she recalls. "And then I realized that he'd killed the snake, so we put the snake in the car and we put him in the car and drove really fast to the pet hospital and they gave him the antidote, and he had to stay there for three weeks, but he lived!"
With a dog like that, it's no wonder Iggy was inspired to get a nameplate necklace made with the pooch's name on it. She says thanks to the necklace, everyone thought it was her name and started calling her "Iggy," so she went with it, and started rapping under that name. But then, her grandfather objected.
"My grandfather, who worked in television and is a big film fan, told me, 'You can't have a one-word stage name! You've got to have a first name and a last name!'" Iggy recalls. He also told her that stage names have to have a certain number of syllables, and "Iggy" just wasn't cutting it. That's when she decided to choose "Azalea."
"It sounds very feminine and I thought it would balance out Iggy being so masculine and a boy's name," she says. "I feel like I was born with the name...I don't really remember not being called this. So if you see me on the street, call me Iggy, or I will kill you!"
A new installment of A.K.A will debut every Thursday.
Follow --ABCNewsRadio
Copyright 2014 ABC News Radio