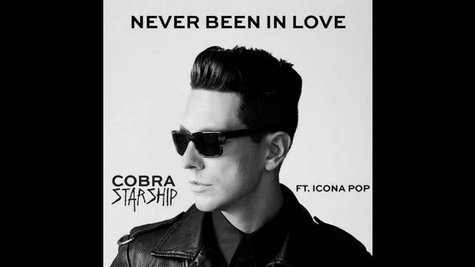 After a few years away from the charts, Cobra Starship has returned with a brand-new single, " Never Been in Love, " featuring Swedish duo Icona Pop .
Cobra Starship's been away for a while -- their last album was 2011 Night Shades -- and in between, frontman Gabe Saporta got married and started thinking about experimenting with new sounds. The single is influenced by early '90s British artists such as Jesus Jones , EMF and even George Michael 's solo work. "It was a time when bands first started incorporating break beats and electronic elements into their music. I had been trying to find a way to modernize that sound," he explains.
What he came up with was "Never Been in Love," which samples the piano from the 1999 Fatboy Slim hit "Praise You."
As for Icona Pop's involvement, they know each other because Cobra Starship had done one of the remixes of "I Love It," which the girls performed while on tour. Gabe tells Entertaiment Weekly , "I've always loved, loved, loved the way they sing in particular. Because they're like punk rock girls singing pop songs."
Don't expect a new album from the band anytime soon, though. Gabe tells EW that this particular song came together quickly so the label decided to just put it out there because the band hasn't released anything in a while. The album itself isn't due until next year.
Follow --ABCNewsRadio
Copyright 2014 ABC News Radio