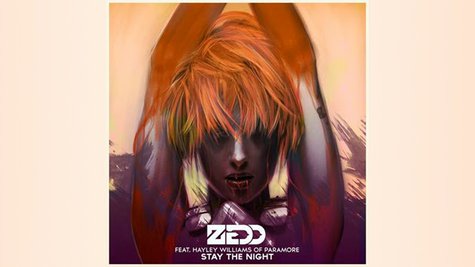 Sunday night's MTV Video Music Awards will be a big one for DJ and producer Zedd: not only will he and Ariana Grande perform their hit collaboration "Break Free" on the telecast, but he's up for two Moonmen himself, for the video for his hit with Hayley Williams , "Stay the Night." The clip has earned nominations in two categories: MTV Clubland Award and Best Editing.
"It was special for me because I've never done anything like it," Zedd says of the "Stay the Night" video, which features quick cuts of himself and Hayley, interspersed with cuts of a couple doing a modern dance routine to reflect the troubled nature of their relationship. As the song speeds up, so do the edits and the dancing, until Hayley, Zedd and the couple are practically a blur.
"I've never had any dancing performances in my videos and I was always kind of opposed to it," Zedd tells ABC News Radio. "Until the director sent me a little clip, it was like five seconds, of his idea of cutting back and forth between scenes and rooms. I mean he did an absolutely incredible job."
"I hope we win something for him because it'll definitely be his award," Zedd adds.
Of course, Hayley gave her own standout performance in the video, dancing frantically while tossing her head back and forth to show off her bright orange hair. "It was new and fresh and short," says Zedd of Hayley's distinctive 'do. "And yeah, she always looks great. And definitely in the video she looks gorgeous!"
The MTV Video Music Awards air Sunday night at 9 p.m. ET/PT.
Follow --ABCNewsRadio
Copyright 2014 ABC News Radio