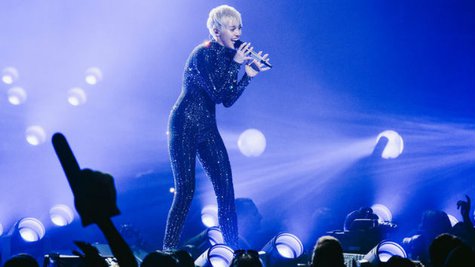 Chelsea Handler 's E! talk show Chelsea Lately signs off the air for good on August 26, and the comedian will be getting a fitting sendoff: a serenade by Miley Cyrus .
E! reports that Miley will join Chelsea for her final show and sing the song "It's Over ," a 1964 hit by late Rock and Roll Hall of Famer Roy Orbison . If this seems a bit odd, remember that Miley is well-versed in all kinds of classic music from the past. In fact, in November, she tweeted a link to one of Orbison's other hits, "Crying."
The lyrics of "It's Over" are about a break-up, and include the lines, "It breaks your heart in two/To know she's been untrue/But oh what will you do?/Then she said to you/There's someone new/We're through, We're through/It's over, It's over, It's over."
Miley's Bangerz tour is currently on a break, leaving the singer free to perform on the Chelsea Lately live finale, which airs next Tuesday at 11 p.m. ET on E! Miley's nominated for Video of the Year at this Sunday's MTV Video Music Awards, but she hasn't been announced as a performer or presenter on the show...yet. Still, how could she possibly top last year?
Follow @ABCNewsRadio
Copyright 2014 ABC News Radio