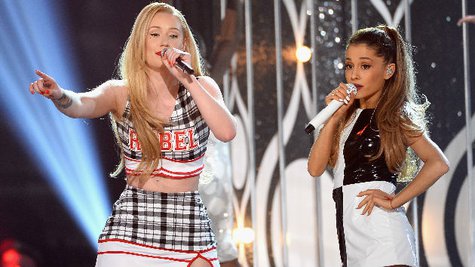 MAGIC! 's "Rude" is number one for a sixth week on the Billboard Hot 100 , but they're likely to be replaced next week by one of two female artists.
The first one is Meghan Trainor , whose surprise hit "All About That Bass" has jumped to #2. The second? Taylor Swift 's new single "Shake It Off," which is expected to sell more than 400,000 copies in its first week of availability, and might just debut at #1.
But the real story in the top 10 is its utter domination by Ariana Grande and Iggy Azalea . Between them, each artist has three songs in the top 10. For Ariana, it's "Problem," "Break Free" and "Bang Bang," her team-up with Jessie J and Nicki Minaj . For Iggy, it's "Problem," plus "Fancy" and "Black Widow."
The only other female acts who've had three top 10s simultaneously are Adele and Ashanti . Adele did it in 2012 with "Set Fire to the Rain," "Rolling in the Deep" and "Someone Like You," while Ashanti accomplished that feat in 2002 with her own "Foolish," Ja Rule 's "Always on Time" and Fat Joe 's "Wut's Luv?"
However, Adele and Ariana are the only women who've ever had three simultaneous top 10s where they were the lead artist. That's because Iggy is just a featured artist on "Problem," while Ashanti was just a featured artist on "Wut's Luv" and "Always on Time."
Follow --ABCNewsRadio
Copyright 2014 ABC News Radio