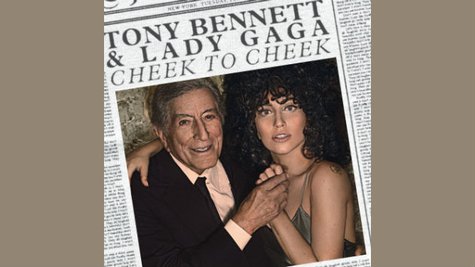 Lady Gaga and Tony Bennett are pulling out all the stops to promote their upcoming album of jazz duets, Cheek to Cheek. Not only will the two be starring in PBS concert special in October, but they've just announced they'll appear on HSN next month.
Tony Bennett & Lady Gaga: Cheek to Cheek is a one-hour HSN Live music special airing September 13 that will give fans a behind-the-scenes look at the making of their new album, including unreleased footage of Gaga and Tony in the recording studio. During the special, you'll be able to pre-order an HSN exclusive deluxe version of the album that features two bonus tracks: "The Lady Is a Tramp" and "Lady's In Love with You."
In addition to the HSN version, there will be multiple configurations of Cheek to Cheek : a standard version, a deluxe version with four bonus tracks, and a Target version with two different tracks. There's also a bonus track on the iTunes version: Gaga's take on "Bang Bang (My Baby Shot Me Down)," originally by Sonny & Cher. For you old-school lovers, a 180-gram vinyl edition of the album will also be available at Amazon and select retail outlets.
The second single from the album, " I Can't Give You Anything but Love ," is available now. The album itself is coming out September 23.
Here are the track listings for Cheek to Cheek:
Standard Version
"Anything Goes"
"Cheek to Cheek"
"Nature Boy"
"I Can't Give You Anything but Love"
"I Won't Dance"
"Firefly"
"Lush Life" (Lady Gaga solo)
"Sophisticated Lady" (Tony Bennett solo)
"Let's Face the Music and Dance"
"But Beautiful"
"It Don't Mean a Thing (If It Ain't Got That Swing)"

Deluxe Version
"Anything Goes"
"Cheek to Cheek"
"Don't Wait Too Long" (Tony Bennett solo)
"I Cant' Give You Anything but Love"
"Nature Boy"
"Goody Goody"
"Ev'ry Time We Say Goodbye" (Lady Gaga Solo)
"Firefly"
"I Won't Dance"
"They All Laughed"
"Lush Life" (Lady Gaga solo)
"Sophisticated Lady" (Tony Bennett solo)
"Let's Face the Music and Dance"
"But Beautiful"
"It Don't Mean a Thing (If It Ain't Got That Swing)"

Global iTunes Bonus Track
"Bang Bang (My Baby Shot Me Down)" ( Live from Jazz at Lincoln Center ) (Lady Gaga solo)

U.S. Target Deluxe Bonus Tracks
"On a Clear Day (You Can See Forever)" (Tony Bennett solo)
"Bewitched, Bothered and Bewildered" (Lady Gaga solo)

U.S. HSN Deluxe Bonus Tracks
"The Lady's in Love with You" ( Live from Jazz at Lincoln Center) (Tony Bennett solo)
"The Lady Is a Tramp" (from Tony Bennett's Duets II )
Follow --ABCNewsRadio
Copyright 2014 ABC News Radio