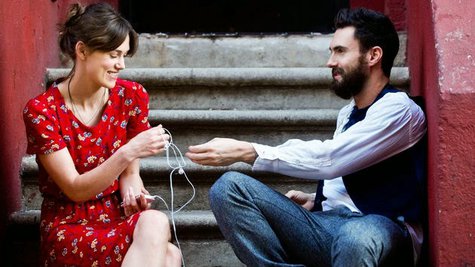 Over the past two years, sometime between recording and touring with Maroon 5 , overseeing a fashion line, record label and perfume brand, and serving as a coach on The Voice , Adam Levine found time to film a role in his first movie, Begin Again . Reviews of the film, which finally came out this summer, have been decent, for the most part, and Adam's bandmate now predicts that there'll be more movie roles for the singer in the future, despite the fact that it'll take him away from music.
Maroon 5 guitarist James Valentine tells ABC News Radio that he thinks Adam acquitted himself well in Begin Again. "I mean, I'm certainly no expert on that but I thought he did pretty good," says James of Adam's part in the movie: he played the cheating musician boyfriend of Keira Knightley 's character. He adds, "Y'know, I think we'll see 'Adam Levine, the thespian' more and more over the next few years."
But wouldn't James and the rest of the band mind if Adam launched an acting career on top of everything else he does? Wouldn't that mean the band would suffer? James says no -- and adds that, in fact, he'd be thrilled if Adam did that.
"Y'know I'm totally OK with that," James tells ABC News Radio. He laughs, "Y'know, ten years ago, that might've worried me, but at this point, I would love for him to go do a movie, 'cause that would mean that we would have a break, to be perfectly honest!"
The way James sees it, Maroon 5 has been on an endless treadmill for nearly 15 years, so if Adam was otherwise occupied, they could all have a breather.
"We have been so focused on the band," he says. "Since 2001, we've made a record, gone on tour and then gone straight back into making a record. So if he took a couple months off to make a movie, I would be totally fine with that!"
James' desire for a break is understandable: after all, Maroon 5's relentless schedule has already made one member of the band temporarily remove himself from the action. Keyboard player Jesse Carmichael completely sat out Maroon 5's last album, Overexposed , and the tour that followed, so he could focus on some of his personal interests, such as "the healing arts." He's back for the band's new album, V, which is coming out next month.
Follow @ABCNewsRadio
Copyright 2014 ABC News Radio