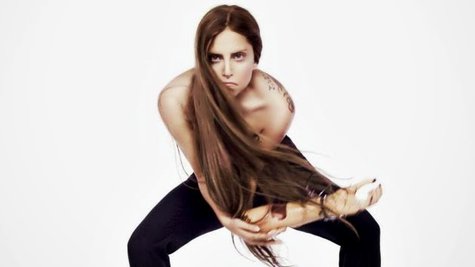 How can we get Adele to come out from the shadows and engage with her fans? Nominate her for the ALS Ice Bucket Challenge. That's just what Lady Gaga has done.
Gaga posted a video of herself taking the challenge, but of course, she couldn't just dump ice water out of any old bucket. No, she used a huge silver punch bowl, and did it wearing a studded leather bondage outfit while sitting in an intricately-designed chair. She then wrote , " #IceBucketChallenge #ALS #SharePainShowCompassion I nominate Adele, Michael Rapino, Vincent Herbert, and Arthur Fogel #RichPeople ."
Michael Rapino is the CEO of Live Nation Entertainment. Vincent Herbert is a record executive who has helped guide Gaga's career. Arthur Fogel is another executive at Live Nation Entertainment.
Gaga added , "I also nominate @bobby_campbell and the cast of @ChicagoFire ."
Bobby Campbell is Gaga's manager. Chicago Fire is the NBC series that stars Gaga's boyfriend, Taylor Kinney .
So far, Adele hasn't responded to Gaga's invite.
Follow --ABCNewsRadio Copyright 2014 ABC News Radio