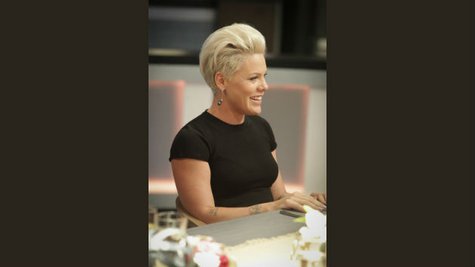 Tonight's the night Pink makes a guest appearance on the Bravo series Top Chef Duels , and the show has released a sneak peek.
In the video, Pink -- who's a guest judge on the show -- is shown meeting contestant Brooke Williamson , whose husband is also one of the contestants. "If I worked with my husband with sharp objects, that would not work at all," Pink laughs, referencing her and husband Carey Hart' s notoriously combative relationship. But, she adds, 'I like seeing couples cook together. It's like a dance."
Top Chef Duels pits contestants from past seasons of Top Chef and Top Chef Masters against one another. According to ET , the chefs tonight are challenged to create a visually stunning circus-themed dinner, which is inspired by the circus theme of Pink's most recent Truth About Love tour. In homage to her hit "Raise Your Glass," there has to be drink pairings for each dish, and one of the dishes has what ET calls a "height requirement," as a nod to Pink's aerial acrobatics.
Top Chef Duels , featuring Pink, airs tonight at 10 p.m. ET on Bravo.
Follow --ABCNewsRadio
Copyright 2014 ABC News Radio