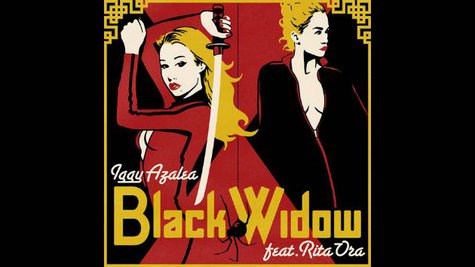 You'll get much more out of Iggy Azalea 's video for "Fancy" if you watch the movie Clueless first, since it's a direct homage to that '90s classic. Well, the same goes for Iggy's new video , "Black Widow" -- it's an homage to Quentin Tarantino 's movies Kill Bill 1 and Kill Bill 2, both starring Uma Thurman . In fact, one of that movie's stars, Michael Madsen , even appears in the clip.
The video begins with Madsen and Rita Ora , who's featured on the track, in a diner, where Iggy's a waitress. Madsen's character is loudmouthed and obnoxious, bullies Rita and gets Iggy in trouble by complaining that she messed up his order. Then, the song starts, and we see Iggy and Rita become secret assassins with skin-tight bodysuits and Japanese swords.
We see Iggy training with an old martial arts master, while Rita breaks into an underground poker game -- T.I. is one of the players -- and beats up one of the principals. Then, both women set out to kill Madsen's character.
They locate him at a club, where they engage his bodyguards in a sword battle and he watches, laughing. Then, he sneaks out the back, but Iggy and Rita are in pursuit. They corner him at a fence and draw their swords, but then he pulls out a gun. At the last minute, a black widow spider crawls out of his sleeve and bites him, bringing on what we assume is a slow, painful death.
Then, we're back in the diner, and we realize the whole thing was a revenge fantasy on Iggy's part -- she's still a waitress, chopping up lettuce for Madsen's sandwich while her boss yells at her. Oh well.
Follow --ABCNewsRadio Copyright 2014 ABC News Radio