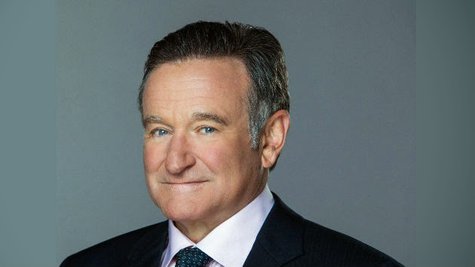 The tragic death of comedy icon Robin Williams hit the Hollywood community hard, but top musicians also took to Twitter to mourn the funnyman, who was found dead of an apparent suicide in his home Monday afternoon. Two of those who shared their grief had just worked with Williams recently: Josh Groban and Kelly Clarkson.
Both singers guest-starred on Williams' CBS sitcom The Crazy Ones , which was recently canceled after one season. Kelly appeared as herself in the show's pilot, while Josh appeared on the show twice, both times playing Danny Chase, a commercial jingle writer. "Stunned. Devastated," tweeted Josh. "I treasure my time with him. Robin was and will always be an original and a brilliant kind soul."
Kelly, meanwhile, tweeted, "Devastating finding out about @robinwilliams today. He was an amazing talent and incredibly sweet. So sad."
Another American Idol alum, Chris Daughtry, tweeted, "A great talent lost. Very sad news. #robinwilliams was one of the most versatile comedians of our time."
Taylor Swift attended the New York City premiere of her new movie The Giver Monday night, but still took the time to tweet, "Heartbroken for Robin Williams and his family."
OneRepublic , who were also at The Giver premiere when the news broke, tweeted , "Dear GOD. Robin Williams just died. We are so heartbroken we're emotional. No one like him on earth. He is our comedy hero. RIP Robin." They added, "No one has ever made us laugh harder. We are grateful to have gotten to witness your genius and talent our whole lives."
Pink was very affected by Williams' death, tweeting, "My prayers+sad heart are with Robin Williams' family tonight. Only met him once, but it was one of the most enjoyable moments of my life RIP. He gave so many of us so much joy. I hope he knew that deeply."
Cher tweeted that she'd known Williams for a long time, and posted a long series of tweets about him. "He was Sweet LOVELY, Man. He ran high voltage, Mind Always Going, It was who he was," she wrote, adding, "Artists (Especially ) R Hard Wired Delicately.I Liken it to a FAULTY EMOTIONAL THERMOSTAT. U Can Set it, But It Goes TOO HIGH THEN TOO LOW."
Attempting to explain Williams' depression, Cher continued, "There is a Great Chasm between on Stage, Film, Fame & Life! One is SUCH Heightened Reality & After Heights there can be Great Depths!"
Here's a look at what some other artists had to say:
* Katy Perry : "So sad about Robin Williams..."
* Rihanna : "Heartbreaking news about the late Robin Williams. May his soul now be at peace!"
* John Mayer : "How awesome a contribution Robin Williams made to the world, that millions of people (and I) are now feeling real, deep human loss. So sad."
* Sam Smith : " Rest in peace. Thank you so much for all the laughter and happiness you brought so many people. Forever remembered. "
* Miley Cyrus : "I can't take the Robin Williams news. I've never cried over someone I've never met but I can't stop."
* Avril Lavigne : "RIP Robin Williams so sad :( you touched so many with your talent."
Follow @ABCNewsRadio Copyright 2014 ABC News Radio