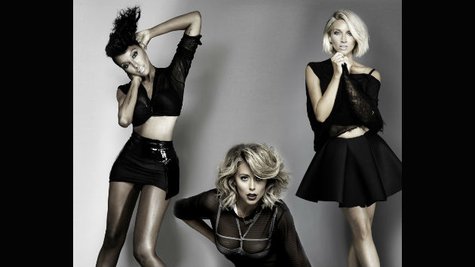 A year after announcing their return, Danity Kane has now split up for good.
In an open letter on Facebook , group member Aubrey O'Day writes that during a recent group meeting, " a business conversation took a turn for the worst when my group member punched me in the back of my head while I was speaking to another associate."
She adds, "To be clear, she was not physically engaged or threatened prior to her attack on me. This is the same information I provided to the police, and witnesses also corroborated this account of the incident."
" I cannot condone or excuse any form of physical violence, particularly at the hands of someone I considered family. Disagreements happen. But a war of words and ideas should never end in physical aggression," Aubrey adds. " It breaks my heart that this violence is followed by no sign of remorse. For the past year, I watched small lies turn into bigger lies. Those bigger lies turned into verbal abuse. Now the verbal abuse has deteriorated into a physical assault."
Aubrey doesn't name the member in question, but it's assumed she means Dawn Richard , because her posting was then followed by a similar one from member Shannon Bex , in which Bex says, " As for the actions that have brought us to this broken ending, I cannot speak for anyone or explain their internal struggles that prompted this heartbreaking sequence of events. All I know is what I have seen. I did not witness a shouting match, a cat fight or a brawl. I witnessed a single direct punch." She then refers to her "overall frustrations with Dawn."

Both Aubrey and Shannon then continue, " We know it must be devastating for our fans to have spent the last twelve months supporting our every move, and for that we cannot apologize enough. We share your frustration and anger! We spent a year living on each other's couches, sacrificing any solo opportunity that came our way, finally finished our comeback album, and were days away from filming three music videos for you...We were at the finish line."
"We wish, more than anything, that our time, our team's time, and most importantly your time as fans, was not taken for granted and carelessly disregarded," they add.

"It is infinitely harder to make a group work than a solo act, and that was the attraction and excitement for us," they conclude. "We wanted to succeed when confronted with the ultimate challenge. We may not have been able to get everyone on the same page. However, we still remain committed to the idea that talented women can come together to create something bigger than themselves. When that moment happens, true history will be made."
Richard, meanwhile, tells TMZ that the girls' accusations are ""exaggerated lies and false accusations."
Sources connected to the group tell TMZ that the trouble began when Dawn learned that Aubrey and Shannon were having secret meetings behind her back regarding the group's music and business matters. When Dawn interrupted one of these meetings, a fight started, and that's when, sources say, Dawn punched Aubrey.
Follow @ABCNewsRadio Copyright 2014 ABC News Radio