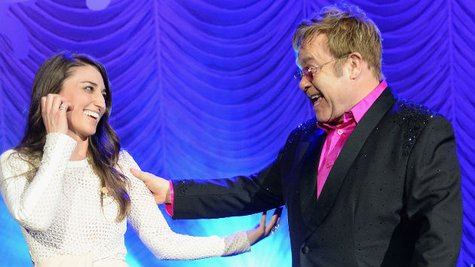 On her most recent live album, Sara Bareilles performs a cover version of Elton John 's "Goodbye Yellow Brick Road." And at a fundraiser in New York City on Tuesday night, Elton told Sara that her version of his classic hit "blew his mind."
New York magazine reports that at the annual Hot Pink Party gala, which benefits the Breast Cancer Research Foundation, Sara performed "Goodbye Yellow Brick Road," and then Elton joined her on stage . "I've never heard someone sing one of my songs like that ever," he told Sara, adding, "You blew my mind with that version. It's a hard song." The two then duetted on Sara's song "Gravity," while Oscar-nominated actress Hailee Steinfeld danced and recorded the whole thing on her iPhone.
"[T]onight I got to sing with one of my heroes. @ eltonjohndotcom at #hotpinknyc . I will never forget this night. thank you," Sara tweeted later. She also posted a photo of her and Elton together on stage, captioned , "Me, losing my mind."
In other Sara Bareilles news, the singer is just about to announce dates for a summer outing she's calling the Little Black Dress tour. All the details will be revealed next week.
Copyright 2014 ABC News Radio