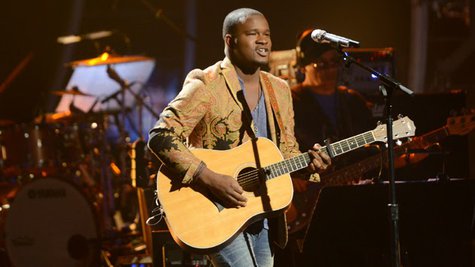 There are only five contestants remaining on American Idol this season, but to hear recently eliminated contestant C.J. Harris talk, any whisper of who might actually win the competition never crosses their lips. According to C.J., he and Caleb , Jena , Alex , Sam and Jessica were all too busy helping one another up their games to even concern themselves over who'll be taking the crown in May.
"We'd all get together that Tuesday night, before the Wednesday we have to perform, we'd all get together and share our songs," C.J. tells ABC News Radio. "It was more like brother and sister. We'll look out and say, 'Don't do that right there. Sing it like this way.'"
According to C.J., it's much more important to the contestants that their season as a whole is considered a success, talent-wise, than it is for the focus to be on any one of them individually.
"We all gave each other good advice because we want our team to be the best team that's ever come through American Idol ," he explains. " Not just looking after one person or this person, but we all just kind of worked together as musicians and really helped each other and loved each other as a family."
So what will it take for any one of the remaining five contestants to step away from the pack and get the votes that'll win them the competition? C.J. tells ABC News Radio that at this stage in the competition, it's all about what you sing, and not how you sing it.
"It's just going to boil down to whoever picks the best songs to fit their voice, because at this point it's not about the singing anymore," he explains. "It's about the choices and the songs and, y'know, your whole self...because at this point, everybody in the top five...they've proved that they can sing."
As for C.J., he personally had trouble with the "proving you can sing part." He's the one contestant that judge Harry Connick Jr. kept calling out for often being out of tune or in the wrong key. So why did he, in particular, have such a problem with that? Lack of experience, is what C.J. blames.
"I'm self-taught," he explains. "And it's a huge adjustment when you go from playing acoustic and playing in bars to going up and playing live for the professional band. They're just, they're really tight." Not only that, but C.J. says the in-ear monitors all the contestants wore on stage kept throwing him off.
"When I put something on my ear it seemed like it just muted my head and I really couldn't hear myself as well," he says. "So it was a lot things I was still getting used to even down to the top seven, top six. It was still things that I just wasn't quite comfortable with yet that I'm still working on right now."
Hopefully he'll have that all worked out by the time the American Idol Live tour begins this summer. Idol continues Wednesday night on Fox at 8 p.m. ET; Jason Mraz will be the mentor, and the contestants will sing songs that the viewers have requested.
Copyright 2014 ABC News Radio