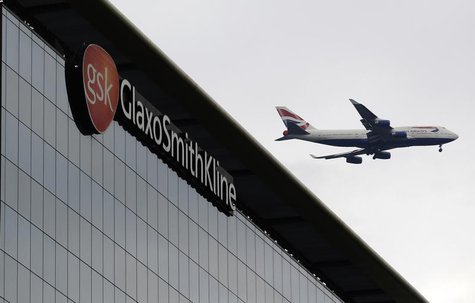 By Ben Hirschler
LONDON (Reuters) - GlaxoSmithKline posted a 10 percent fall in quarterly sales on Wednesday, highlighting some of the industry pressures behind last week's decision to trade more than $20 billion of assets with Swiss rival Novartis
.
Amid a frenzy of M&A in the healthcare sector - including a potential $100 billion bid by Pfizer for AstraZeneca - GSK Chief Executive Andrew Witty said he much preferred targeted deals like the tie-up with Novartis.
Asked if GSK could consider a "white knight" counterbid for AstraZeneca, he declined to comment specifically but he told reporters in a conference call that such broad-based deals were "distracting".
The company's performance in the three months ended March was hit by disappointing sales of its top-selling lung drug Advair in the United States, where sales fell 20 percent following reduced reimbursement coverage.
Sales of its new respiratory drug Breo have also been slower than anticipated due to delays in payer coverage, although GSK expects things to improve from next month.
GSK shares fell 1.5 percent by 1230 GMT. Deutsche Bank analyst Mark Clark said the worse-than-expected sales performance and the dropping of explicit sales growth guidance would lead to analysts question their profit assumptions.
Reported sales in the first quarter, which were impacted by the strength of sterling, totaled 5.61 billion pounds ($9.45 billion), generating "core" earnings per share down 20 percent at 21.0 pence.
Analysts, on average, had forecast sales of 5.84 billion pounds and core EPS, which excludes certain items, of 20.7 pence, according to Thomson Reuters.
GSK said it still expected sales to grow over the year in constant exchange rate terms, after a 2 percent decline on this basis in the first quarter, but it is no longer giving a specific figure. Previously it had predicted 2 percent growth.
The company reiterated its target of increasing 2014 EPS by between 4 and 8 percent.
In addition to the weak Advair performance, GSK also continued to be held back by difficulties in China, where sales fell 20 percent from a year ago, following a damaging bribery scandal that broke last July.
The global drugs industry is having to contend with increasing pressure on healthcare spending, prompting a wave of restructuring as companies seek to focus on areas of strength and exit those where they lack the scale to compete.
CEO Witty aims to do that via his recent deal with Novartis to sell its cancer drugs and buy most of the Swiss group's vaccines, with the two firms also creating an $11 billion-a-year consumer health business.
The revamp means GSK in future will get 70 percent of sales from its franchises in respiratory medicines, HIV, vaccines and non-prescription consumer health.
($1 = 0.5936 British Pounds)
(Editing by Kate Kelland and Mark Potter)