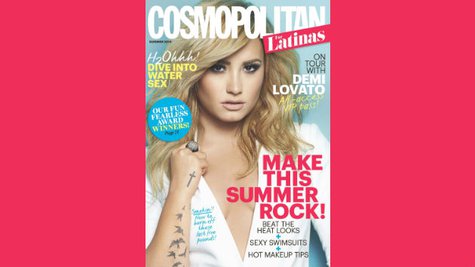 Demi Lovato has been named "Fun Fearless Latina of the Year" by Cosmopolitan for Latinas magazine, and in her cover story, she talks about her struggle with bipolar disorder, her career goals and being an inspiration to her fans.
The singer has gone through her share of troubles with drugs, drinking, bulimia and self-harm, but she experienced a major attitude shift last year during her 21st birthday, which she spent doing charity work in Kenya. "I was used to drinking and doing drugs on my birthday," she tells Cosmo for Latinas . "I always imagined my 21st being a huge party where I'd get s**t-faced and go crazy. But I realized that there's so much more to life than that. Imagine walking 10 miles a day just to get water for your family? We have so much to be grateful for."
Demi is also doing better these days because she's gotten treatment for her bipolar disorder. "It's a daily thing. I treat it with medication," she tells the magazine. "Not everybody does that, but for me it works. That's what works for me -- medicating, checking in with people, being honest and being grateful for things."
These days, the singer, actress and former X Factor judge says she works hard to set a good example for her Lovatics, which is the name her dedicated fans have adopted for themselves.
"When I was younger, I needed someone in the spotlight to idolize, who stood for positivity and light and happiness, and wanted to change the world," she explains. "And because I didn't have that, I realized I want to do that, if only for my 12-year-old little sister."
Demi recently wrapped up a North American tour in support of her current self-titled album, and starts a tour of South America this week. While she's accomplished so many things in her young life, the singer says she still has some lofty goals.
"I'm very proud of how far I've come, but I definitely want to win a Grammy one day, and I dream of winning an Oscar," she reveals."I want to continue to tour and build my fan base and make music that will last for decades."
You can read the entire interview with Demi in the summer 2014 issue of Cosmopolitan for Latinas.
Copyright 2014 ABC News Radio