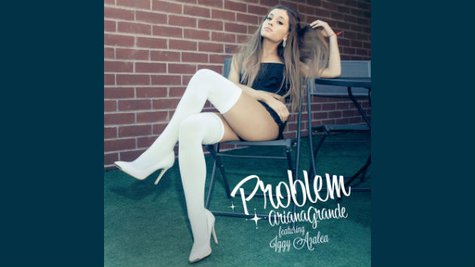 Ariana Grande isn't having any "problem" getting fans to love her new single. It's just set an iTunes record, and is now headed for a huge debut on next week's singles chart.
The head of Ariana's record label tweeted that upon its release, " Problem " hit #1 on iTunes faster than any other song: it took just 37 minutes. In addition, "Problem" eventually reached #1 on iTunes in 47 countries around the world. Now, Billboard reports that the track, which features Big Sean and Iggy Azalea , is on track to sell more than 300,000 copies by the end of this week.
If the song does sell that many copies, it's a shoo-in for a top 10 debut on the Hot 100. Billboard also notes that in the SoundScan era, which started in 1991, only 22 songs have managed to sell 300,000 or more copies in their first week on sale. The last two to do so were "The Monster" by Eminem and Rihanna , and One Direction 's "Story of My Life."
The lyric video for "Problem" debuts on Wednesday at RollingStone.com. Ariana, who shot the actual video on Tuesday, is delighted with the response to her new track. "[S]aid this a million times today but i love u all," she tweeted to her fans.
"Problem" is the first release from Ariana's sophomore album, due out this summer.
Copyright 2014 ABC News Radio