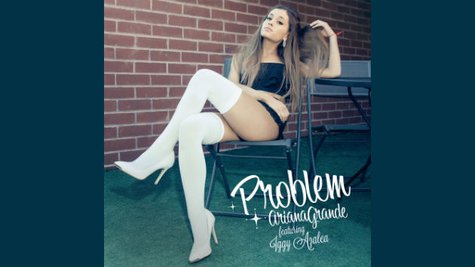 Ariana Grande 's sassy new single "Problem" shows a different side of the singer, but she says she doesn't want to push the envelope too far just yet.
Speaking to Rolling Stone , Ariana says of the new single, "I wanted to try something different and something new for me. I like the idea of pushing myself further and constantly trying new things and surprising people, as long as it still feels authentic to me. I am growing up and coming into my own, but I don't feel the need to do anything too outrageous to convey it, you know?"
"I want to let my music speak for me. I'm still me, I'm just coming into my adulthood and I'm proud of how I'm doing it too," Ariana continues.
Ariana teamed up with rising Australian rapper Iggy Azalea for the track, and she tells Rolling Stone that when she first saw a video of Iggy, "I just thought she was so original and I loved the way she pronounced her words." She adds, "I thought we would make the perfect girl-power duo for 'Problem', so I'm very grateful that she did ['Problem'] with me."
The black-and-white lyric video is now available on RollingStone.com .
Copyright 2014 ABC News Radio