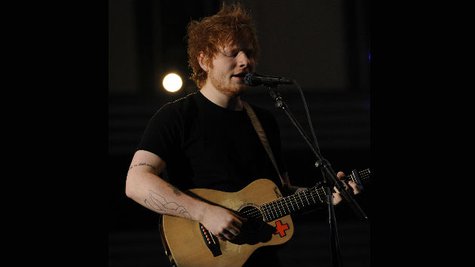 Ed Sheeran recently told Billboard that one of his major influences is rapper Eminem , and the singer/songwriter shows off some of his impressive, Eminem-influenced flow debuting a new song in a video posted to the U.K.'s SB.TV's YouTube Channel.
Accompanying himself on acoustic guitar, Ed offers such self-deprecating rhymes as"Now I don't ever want to be perfect/ 'cause I'm a singer that you never wanna see shirtless/ and I accept the fact that someone's gotta win 'worst dressed," before cutting loose to sing the hook, "c'mon and take it back love."
Ed performed the song, "Take It Back," last month at a benefit for the Teenage Cancer Trust at London's Royal Albert Hall.
"Take It Back" is set to be one of the bonus tracks included in the deluxe edition of Ed's upcoming, sophomore album x , pronounced "multiply," which is due June 23.
Copyright 2014 ABC News Radio