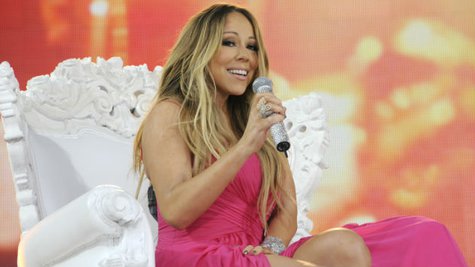 Mariah Carey 's fourteenth album has endured plenty of setbacks, causing many fans to wonder if it will ever see the light of day, especially since the set was recently removed from the release schedule on Island Def Jam's official website . Fortunately, though, the singer has confirmed that the disc will arrive soon, but fans won't get the traditional advance notice of a release date.
Taking a page from Beyonce 's playbook, Carey reveals in the latest issue of Billboard that she is planning a "surprise" release for her long-awaited album, which was originally due May 5 and was once to be titled The Art of Letting Go . Last December, Beyonce released her self-titled album with no advance warning as a digital release that could only be purchased as a whole album.
Mariah will reveal her album's new title, official track list and artwork simultaneously via undisclosed digital partners. A physical release is expected the following week.
"I have to be the one that announces this, especially the title," Mariah told Billboard . She adds the album will be named after a "personal possession of mine that's part of an entity that I've had almost all my life."
The upcoming set will include production from Jermaine Dupri , Rodney Jerkins , Hit-Boy and Mike WiLL Made It , plus guest features from Wale , Nas and Trey Songz , who remixed her latest single "You're Mine (Eternal)."
Mimi also says that there will be "a special guest star that I'm not allowed to reveal."
So why is Mariah choosing a stealthy release, although not so stealthy that she isn't talking about it now? "I want my fans to hear it as a body of work," said Mariah. "This is my life since we last left off. Just picture a dot dot dot, and then here's the album."
Copyright 2014 ABC News Radio