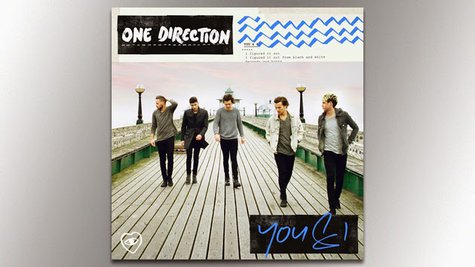 One Direction's new video for "You & I" features a pretty cool special effect where each member of the band appears to morph into another member. But it's a different special effect in the clip which now has an Australian film company accusing them of plagiarism.
At about the 2:45 minute-mark in "You & I," the members of the band, and various objects around them, appear to "freeze." Then, the guys, and the objects "enter" their frozen images, and they begin moving again. But as the Australian Herald Sun reports, the exact same technique was used before, in a video for a Melbourne band called Clubfeet. A film production and animation company called Oh Yeah Wow, who did that video and won an award for it last year, claim that they invented the visual trick and that 1D has blatantly appropriated it.
Oh Yeah Wow posted a message on its Facebook page accusing 1D of ripping them off. They blogged about it, and have encouraged others to take to social media and call out the band and their director, Ben Winston , on this. In addition, they've tweeted at the various members of the band, asking them to 'fess up to their plagiarism, and tried to contact Winston's production company, all to no avail.
Seamus Spilsbury , from Oh Yeah Wow, tells the paper, "We haven't heard any word from the band ... we have had a few emails from fans though, some voicing their anger and others that are supporting us."
He adds, "The technique is created using a number of well established [video effects]. Our clip was the first to use these tricks in this conceptual context."
Why is the company so upset about this? On its blog, the company writes, "Plagiarism and copycatting is becoming increasingly common and acceptable. When did we, society, become so complacent as to allow this kind of behavior to become normal practice in the media industry? It is for this very reason we have decided...to rally some support -- for the last thing we want is a generation of kids labeling our Clubfeet video a One Direction rip off in years to come."
The company adds, "Considering the sleep deprivation one must endure to create an original piece with practically no budget, you can start to understand the annoyance we might feel when some affluent young bucks and a director devoid of creativity, decide to effectively steal (and subsequently dilute) our idea."
Copyright 2014 ABC News Radio