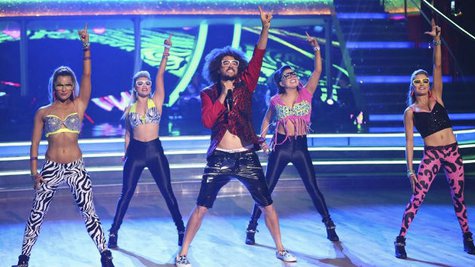 Since LMFAO stopped party rockin' and took a hiatus, group member SkyBlu has released a solo album, but we haven't gotten one yet from his musical partner and uncle, Redfoo . But the singer says he's finally ready to show the world what he's learned over the past year or so.
"I'm working on the album now," Redfoo told ABC News Radio earlier this week backstage at Dancing with the Stars, where he was a guest judge. "I've been working on it for a while now because I just keep going on tour, coming back, doing shows [and] doing stuff." But finally, he says, "I've assembled a team of creative people that I love to be around and now we're knocking out songs."
In addition to releasing a couple of singles and making appearances all over the world, and sponsoring an annual tennis tournament in Las Vegas, Redfoo's been serving as a judge on The X Factor Australia, and he says that's helped him figure out what kind of record he wants to make.
"You know, I'm getting better at interpreting how I feel into music, even better than before. So, I'm laser-focused, and I'm on the piano everyday and I'm expressing and I'm so excited," he tells ABC News Radio. "I've been on the X Factor , now I've done this. I know what I need to put together to entertain the world!"
So, he's done X Factor Australia, and Dancing with the Stars ...is there a chance we'll see Redfoo appear on any other reality TV shows in the near future?
"Well, I'm on X Factor Australia, right now, so, you know, in America, maybe," he says. "Because I love it. It's fun and...some of the shows you get to mentor people, you know. But this dancing show is incredible! It's so stimulating!"
Copyright 2014 ABC News Radio