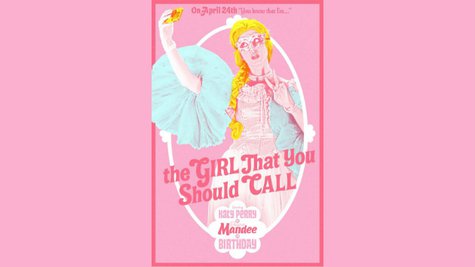 Katy Perry transforms herself into five of the "world's worst birthday party entertainers" in the video for her latest single, "Birthday."
In the eight-minute clip , which was shot earlier this month and premiered Thursday, Katy goes undercover at five birthday parties. At each celebration, she wreaks havoc as one of five, sometimes profane, characters: Goldie the Dancer, Yosef Shulem the MC, Kriss the Clown, Ace the Animal Trainer and Princess Mandee.
The elderly Goldie the Dancer -- so named because of her "Golden Nuggets," a reference to her chest -- pops out of a cake at a party for senior citizens, for whom she dances provocatively.
Kriss the Clown, who landed the clown job via Craigslist, works at a kids' party. Kriss struggles with making animal balloons, drinks when no one's looking and causes a car accident while stumbling into the street while blindfolded.
At another bash for children, Ace the Animal Trainer brings one child to tears by putting a fake mouse into Ace's mouth.
Yosef Shulem the MC, who sports a mustache, shows up at a bar mitzvah, takes over for the DJ, and pulls off humorous dance moves.
The unicorn hat-wearing Princess Mandee smears face paint all over kids' faces. She eventually removes her hat and wig, revealing herself to be Katy. The kids scream at the sight of Katy, and rush to hug her.
When Katy tweeted a link to the video, she wrote , "GUYS, PREPARE YOURSELVES cuz it's time to bring out the big balloons and #MakeItLikeYourBirthday!"
Katy addressed the making of the "Birthday" video during her appearance on ABC's Jimmy Kimmel Live! earlier this week. She said she went undercover because "I was sick of making gorgeous music videos where I'm sexual."
Copyright 2014 ABC News Radio