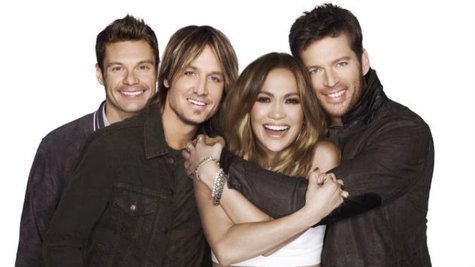 American Idol was a little bit country and a little bit rock and roll on Wednesday night. Each contestant in the top six performed two songs: one from the rock genre, and one from the country genre.
Jennifer Lopez , Harry Connick, Jr. , and Keith Urban were there to critique each performance.
Here's what happened during the two-hour show:
Jena Irene was the first contestant to entertain the viewers and the studio audience. She took on the Heart classic "Barracuda." Keith said it was a great way to start the show, and that Jena set the bar high for the rest of the contestants. J-Lo said that with a little extra push Jena can make it to the finals.
Sam Woolf performed the Imagine Dragons tune "It's Time." Jennifer said she had "goosies" while listening to Sam. Harry said Sam's a sweet, humble and kind guy, and he's adding layers to that.
C.J. Harris channeled his inner Lenny Kravitz on Lenny's version of The Guess Who song "American Woman." Keith urged him to bring out the proper emotions when singing tunes like that one. Jennifer said it was shaky at first, but C.J. started to connect with the crowd toward the middle.

Alex Preston covered Neon Trees ' "Animal." Keith drew light boos when he told Alex he wanted him to "release" a bit more. J-Lo agreed.
Caleb Johnson belted out the Black Crowes ' "Sting Me." He lost his microphone at one point, but Jennifer and Keith both were amazed by the way he handled the situation and recovered.
Jessica Meuse performed Jefferson Airplane 's "Somebody to Love." Harry said she delivered in a powerful and rhythmic way. Keith liked it too, though he encouraged her to "release" more, too.
Sam opened the country portion of the show by singing Shania Twain 's "You're Still The One." Keith advised Sam to relax on stage. Harry added that Sam may want to not perform with the same tone throughout the song.
Caleb handled "Undo It," by former American Idol winner Carrie Underwood . Jennifer and Harry both felt there was more magic in his first performance of the night.
Alex tackled Willie Nelson 's "Always On My Mind." Harry said it was exactly what it needed to be. Keith would've liked to have heard a little more "heartbreak" in the vocals.
Jena performed another Carrie Underwood song, "So Small." Keith said it was the "best journey" to watch her throughout the season. Jennifer said she was so into the performance that it was as if the band had disappeared. Harry, on the other hand, didn't know where Jena was going with it.
C.J. played "Whatever It Is," by Zac Brown Band . Jennifer said this was more his style, but she expected more from him. Harry said it wasn't C.J.'s best performance. After the judges made their comments, C.J. dedicated the song to a young girl from his hometown who passed away earlier this week.
Jessica closed out the night with Dolly Parton 's "Jolene." Keith hated the arrangement, but both he and Harry thought the vocals were strong.
One contestant will be eliminated on Thursday night's results show, airing on Fox at 9 p.m. Eastern time.
Copyright 2014 ABC News Radio