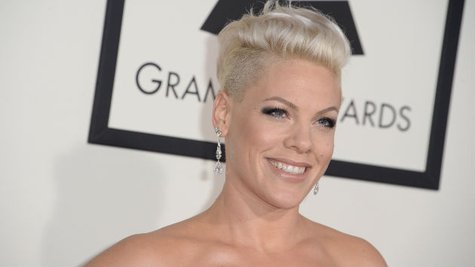 Pink is featured in People magazine's brand-new 50 Most Beautiful People issue, and while she's not on the cover, she is featured inside the publication buck-naked.
Pink is posing as part of a feature called "Naked at 34," where five different female celebrities show off their nude bodies. In a photo on People's website, which a People rep tells ABC News Radio is slightly different from the one in the actual magazine, Pink's seen in black-and-white, sitting sideways and slightly hunched over so we can't see her naughty bits. We can, however, see her impressive collection of tattoos, which are probably more extensive than you realize. Pink is also naked in black-and-white inside the actual magazine, which hits newsstands Friday.
"I was a gymnast for eight years, starting when I was 4 years old," Pink tells People , explaining where she got her body confidence. "So instead of thinking, 'Am I skinny? What does my body look like?' I grew up thinking, 'Am I fast enough? How can I use my body?' I'm a person who could always lose a couple here and there, but I would rather be strong than bony."
Pink says that her two-year-old daughter Willow shares her mom's penchant for shedding her clothes.
"She said to me the other day, 'Mama, on Tuesday I think we should get naked and have a naked booby butt dance party.' I was like, 'I'm in.'"
The other stars who stripped off for People include Orange Is the New Black star Laura Prepon, actress Rachel Leigh Cook , Devious Maids star Dania Ramirez and actress, model and ex-pro wrestler Stacy Keibler .
Copyright 2014 ABC News Radio