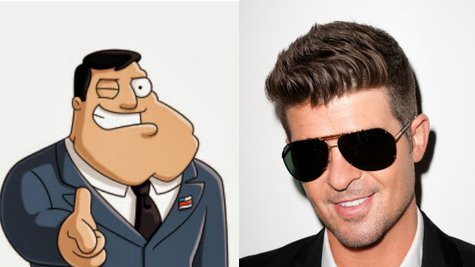 Robin Thicke is about to add "voice actor" to his resume: he'll be guest-starring on an upcoming episode of the Fox animated show American Dad .
On the May 4 episode of the Seth MacFarlane -created show, Roger bets an annoying coffee-shop musician that he can outplay him. Robin plays that annoying musician. In a cool twist, Robin's famous dad, Alan Thicke , also guest-stars in the episode, as himself.
American Dad airs on Fox at 7: 30 p.m. ET/PT as part of the networks Sunday night "Animation Domination" lineup.
Copyright 2014 ABC News Radio