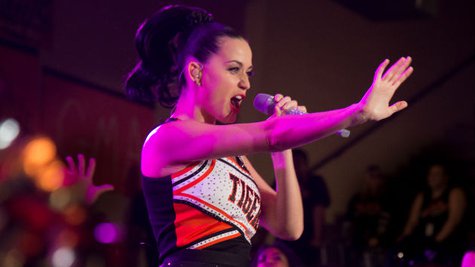 Even if you don't know Sia Furler 's name, you know her voice: she's the one who sings lead on David Guetta 's smash hit "Titanium." Now, in a new interview, Sia reveals that the song wasn't originally intended for her to record -- in fact, Katy Perry was among those who turned it down.
Sia tells The New York Times that when she wrote the song -- it took her 40 minutes -- and sang on the demo, she thought she was crafting it for David Guetta to give to Alicia Keys . After it was done, David tried to get other famous vocalists to sing on the track, including Mary J. Blige and Katy Perry. Katy tells the Times she turned the song down because "I had just come off 'Firework' and didn't want to repeat myself. I have to balance out my anthems, or else I'll just be a motivational speaker."
Katy says she told David he'd be "crazy" not to keep Sia's original vocal, so he did -- but didn't tell Sia. When it became a big hit, Sia, surprisingly, wasn't happy about it.
"I was really upset about it, because electronic dance music is not my kind of music," Sia tells the Times . But there was a silver lining: "It turned out to help my career as a songwriter," she explains. Indeed, she's now the go-to writer for female pop stars, crafting songs for Rihanna , Britney Spears , Celine Dion and Beyonce , just to name a few. One of her best known creations is Rihanna's "Diamonds," which she wrote in 14 minutes.
Copyright 2014 ABC News Radio