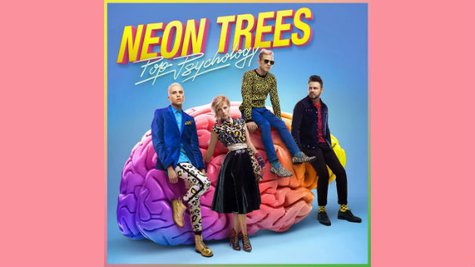 This week, Neon Trees is out with their brand-new album Pop Psychology, and lead singer Tyler Glenn is out, period. The singer recently revealed in a much-publicized Rolling Stone article that he is gay. While some of the songs on the album, including the first single "Sleeping with a Friend," directly address Tyler's situation, he said he didn't set out to make an album solely about that.
"As I was writing, I didn't know I was going to come out, you know. It was a process," he tells ABC News Radio. "And for me, it started out as writing a lot of the songs in therapy, and then going into making a record wanting to make it sort of a dark, cathartic record. But it ended up being like the poppiest, most energetic, fun album we've made!"
"I think it's a celebration of the types of people [we are] and where we're at now," he adds.
In fact, the band thinks Pop Psychology , which is their third disc, captures their true sound better than the previous two, Habits and Picture Show.
"With Habits I feel like it was just kind of all of this, like, upbeat kind of thing, and then the second one was a little deeper, more pensive maybe. And then this is kind of able to bring it all together," explains guitarist Chris Allen . "Yeah, there's growth. I think you should grow in every album, but we're also more confident as people so I think it translates in the confidence of the music," adds Tyler.
One reason for Tyler's new found confidence may be the fact that his revelation has earned him "entirely positive" feedback from fans, as well as from the Mormon community, to which the band members belong.
"We're a Utah band and there's a lot of Mormons, and we're also Mormon, and so I think getting it from the Mormon community -- a sense of support -- is sort of interesting and it's not something that you always hear publicly about the Mormon Church," explains Tyler. "So it's refreshing to hear that, as I'm saying I'll continue to have faith in a religion that I was brought up in, it's nice to know that there's support back."
Not only that, but Tyler feels the band may have even gained some new fans, solely because Tyler decided to speak openly about his sexuality and his faith. "I mean, our Twitter followers have gone up, so it's cool," he tells ABC News Radio,. "I think there are people that...maybe -- and I didn't plan it this way -- but I think maybe...it adds a little more of a weight to [our music]. I don't know."
Best of all, the other members of Neon Trees -- Chris, bassist Branden Campbell and drummer Elaine Bradley -- are all totally fine with Tyler being gay, even though people might have predicted that the band's religion would have prevented them from accepting him.
"People wanted there to be a rift, especially with Elaine being, probably, the most religious in the band," Tyler tells ABC News Radio. "But it's been amazing, and of course we're a family and it's fine."
"The thing is, we all have so many gay friends," Chris adds. "So we just have another one now!"
Neon Trees will kick off a headlining tour in support of Pop Psychology on May 12 in Nashville, Tennessee.
Copyright 2014 ABC News Radio