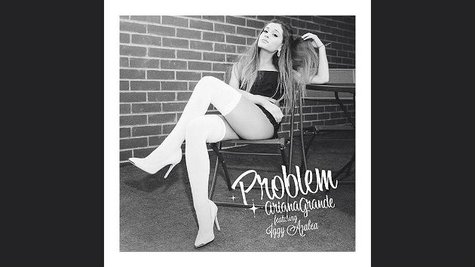 Ariana Grande will be releasing her new single "Problem" on Sunday, but she's posted a teaser of the track on Instagram.
In the upbeat song, Ariana sings, "Head in the clouds/got no weight on my shoulders/I should be wiser and realize that I've got...." and then we hear a man whispering, "One less problem without ya!" The black-and-white visual is taken from the upcoming lyric video.
And who's the guy we hear on the track? Well, Big Sean tweeted , "I wonder who the mystery whisperer is?" and Ariana retweeted it, so he's a safe bet, especially since the rapper was previously featured on Ariana's song "Right There."
In other Ariana news, she tweeted her excitement over meeting Jim Carrey on Monday. The meeting presumably took place at the White House Easter Egg Roll, where she was performing and he was appearing. "[M]et my childhood crush Jim Carrey. could even speak. he was kind, warm and human. I'm so happy," she wrote , adding , "all was swell until my mom told him that my first screen name was JimCarreyFan42@aol...........I wanted to die."
Ariana revealed that Carrey's advice to her was "Stay human."
Copyright 2014 ABC News Radio