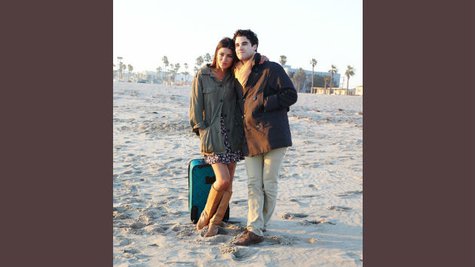 A Great Big World has other songs besides "Say Something," y'know. The duo has just debuted the new video for their next single, "Already Home," and they've tapped some well-known actors to play the starring roles: Glee's Darren Criss and Gossip Girl's Jessica Szoh r.
The fact that Darren is starring in the duo's video is something of a "full circle" moment, since the way many of us first heard of A Great Big World is when their song "This Is the New Year" was featured on Glee's fourth season. In the video, Darren and Jessica play a couple who live on opposite coasts -- he in California, she in New York City. Footage of them going through their lives while constantly thinking of one another is intercut with footage of A Great Big World's Chad Vaccarino and Ian Axel performing the song, the lyrics for which include the line, "If only New York wasn't so far away."
At the end of the clip, Darren and Jessica both resolve to book a plane ticket to the opposite coast and surprise each other with a visit. Of course, their wires get crossed, and he ends up in New York, while she arrives in California. But in the final moments, they're able to break down the barrier between them, as Darren leans across the split screen and kisses Jessica tenderly.
A Great Big World will perform "Already Home" on NBC's Today show Wednesday morning.
Copyright 2014 ABC News Radio