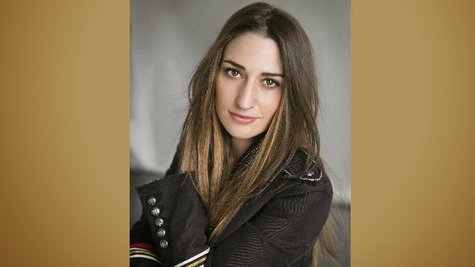 2014 has already been pretty memorable for Sara Bareilles: she attended the Grammys, where she was nominated for two awards and got to perform with music legend Carole King ; she teamed with VH1 for a new initiative to bring instruments to schools; and she appeared on Live from the Artists' Den. Now, she's deep into her most challenging project yet: writing songs for a stage musical.
"It's really exciting. We're doing a stage adaptation of the film Waitress , and there's some incredible collaborators on board," she tells ABC News Radio. "And so when I was approached to try this I was like, 'I don't know what I'm doing but I'm really curious. So, gimme a shot. If it doesn't work out, let me know!'"

Sara's currently in New York City hard at work on the project, and she tweeted, "Oh boy. My heart is soaked with excitement. Watching this musical start to take shape is insanely gratifying and precious." She also shared a photo of a reading, adding, "I t's happppppppppennning." She added a string of hashtags, including, " #waitress," " #musicals," " #singing," "# people," " #stuff," " #me," " #you" and "#letsdothis."
"I'm having so much fun playing in a totally new medium," Sara tells ABC News Radio. "I'm a big musical theater fan. It's something I always sort of dreamed for myself, but I didn't realize it would be in this capacity so it's kind of exciting!"
The movie Waitress came out in 2007; it starred Keri Russell as a woman trapped in an unhappy marriage to a bully. She works in a diner, where her job is to make creative and unusual pies. She hopes to win a pie contest and use the money to leave her husband and finance a new life for herself, but he won't allow her to go. Then, an unwanted pregnancy, a sympathetic doctor, and a secret benefactor all conspire to eventually give her the life she wants.
So what can theatergoers expect from the songs Sara is creating for Waitress: The Musical? Ones that are easy to sing along to.
"I grew up on Les Miserables and Miss Saigon and Phantom of the Opera , The Scarlet Pimpernel , The Secret Garden -- lots of really, you know, beautiful, melodic [pieces]," she says. "I mean that's what I love about theatrical music anyways: the melodies are just, they are the heart and center. I love that. I like building the story over a beautiful melody and going from there."
No word yet on exactly when the musical will debut.
Copyright 2014 ABC News Radio