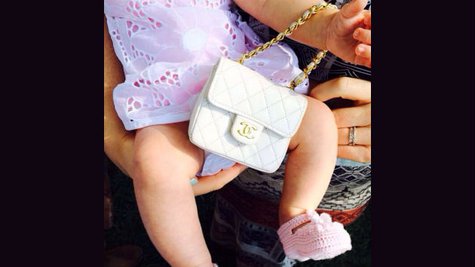 K aty Perry doesn't have any children -- at least, right now -- but she's proving to have some great mothering instincts.
Exhibit #1: Katy has posted an Instagram video of herself "reading" the classic children's book Pat the Bunny to her new puppy, Butters . In the video, Katy is seated at a dinner table with Butters on her lap, and she's turning the pages of the board book while Butters pretends to be interested. When she gets to the part where you can scratch 'n sniff the flowers, she holds the book up to Butter's nose; the puppy then turns to the camera and give a look that says, "Are you kidding me?"
Exhibit #2: Katy posted a photo of her new niece -- her sister Angela 's daughter -- with a teeny, tiny white Chanel purse. " Stylist Auntie K killing the game for all other aunts out [there]!" she captioned the photo. And that's not the only high-fashion accessory she gave the baby: three weeks ago, she posted a photo of a Jeremy Scott-designed, winged gold Adidas baby sneaker, writing, " COOLEST Auntie K because of bestie @itsjeremyscott . "
Copyright 2014 ABC News Radio