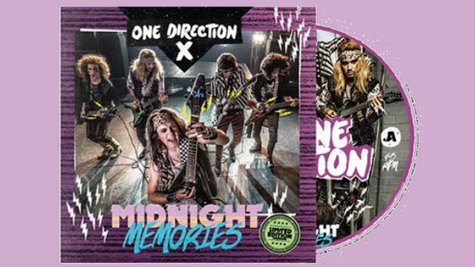 Attention One Direction fans: even if you don't have a turntable -- heck, even if you don't know what a turntable is -- you might want to get on down to your local independent record store on Saturday to get your hands on an exclusive 1D release.
Saturday is Record Store Day , an event which sees hundreds of artists of every musical genre creating special vinyl-only singles and albums, which you can buy exclusively at your local record store. The idea is to keep these local stores in business in a day when most of us purchase music with the click of a mouse.
The members of One Direction aren't old enough to remember a world without CDs, yet they've prepared a seven-inch vinyl picture disc of "Midnight Memories," the title track from their most recently album. The artwork features the boys dressed up like '80s hair-metal rockers -- appropriate, since "Midnight Memories" sounds an awful lot like a song by '80s hard-rockers Def Leppard . The flip side is "Rock Me," a live track from the group's movie One Directon: This Is Us, and it's not available anywhere else.
While the majority of Record Store Day releases come from alternative and classic rock bands, there are other pop releases too. A 12" picture disc version of Katy Perry 's album PRISM is available, and Paramore has created a 12-inch disc for their latest hit "Ain't It Fun" that looks like a broken record. fun. has a 10" vinyl disc featuring unreleased demos from their debut album, Aim & Ignite. Zedd is offering a 12" version of his song " Find You ," in both studio and live versions. Bastille , meanwhile, has a 10" picture disc of their popular live mash-up number, "Of the Night," which also features a live version of their song "Oblivion."
In addition, Phillip Phillips will be performing live at one of the participating stores: Rasputin Music , in Berkley, California. Not only can you catch his show, but you can pre-order his new album Behind the Light , and receive a wristband to meet him afterwards.
For all the details about which artists are releasing what, and which stores are participating, visit RecordStoresDay.com .
Copyright 2014 ABC News Radio