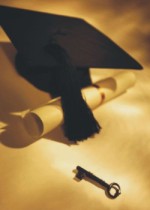 The Indiana Department of Education has released graduation rates for 2013.
The data shows that about 88 percent of students passed their year-end assessments, which only a tenth of a percentage point lower than 2012.
94% of private school student graduated and African – American children were least likely to graduate compared to students of other races.
Here in Vigo County the overall graduation rate in 2013 was 91.1 percent, which is above the state average but it was down from 93.4 percent in 2012.
Vigo County's graduation rate is above most all other districts our size or larger in the state.