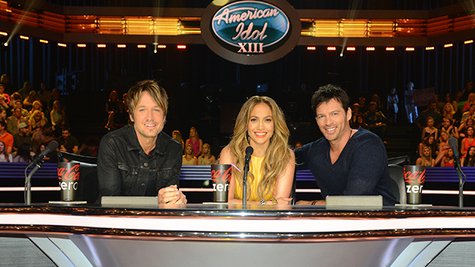 American Idol 's top seven took the stage Wednesday night to sing "competitors' picks." Each singer performed a tune he or she selected from a pool of suggestions made by the other contestants.
It was the first time in American Idol history that this theme was used for a performance show.
Jennifer Lopez , Harry Connick, Jr. , and Keith Urban were there to critique all of the contestants. In addition, former X Factor judge Demi Lovato , who recently wrapped up her U.S. tour, dropped by to say hi and offer some comments on the duets. She played coy when Ryan Seacrest asked her if she'll announce more U.S. dates in the near future.
Here's what happened on the two-hour show:
Caleb Johnson went along with a suggestion from Alex Preston : "Family Tree," by Kings Of Leon . Keith called him a "consistent and dynamic performer." J-Lo said he was pretty amazing, adding that Caleb would be a tough act to follow for the other contestants. Harry liked the way he changed the melody, saying that it would fit right in on a Caleb Johnson album.
Jessica Meuse tackled Miranda Lambert 's "Gunpowder & Lead," which was Sam Woolf 's idea. J-Lo said for the first time this season Jessica was a little off with her vocals. Harry suggested that Jessica listen to rhythmic music in her hotel and dance along to it in front of a mirror, so she can learn how to stay in sync with pyrotechnics and other potential stage distractions. Keith told Jessica that she needs to better channel the emotions of the lyrics she sings.
Once again, the contestants paired up for duets. Sam and Alex performed the first duet of the night, a cover of Passenger 's "Let Her Go." Harry thought it was "saccharine" and just OK. Ryan asked Demi what she thought; she agreed with Harry, though she noted it had good energy.
C.J. Harris played John Mayer 's "Gravity," as suggested by Caleb. Keith enjoyed it, but would have liked to have heard more of an "arc." Jennifer asked him to look for the moments that will lift the crowd. Harry said C.J. has the ability to connect with the crowd, and that he delivered his best performance to date.
Dexter Roberts performed Luke Bryan 's "Muckalee Creek Water," suggested by C.J. Jennifer said he did a good job, but she reiterated that the contestants need to be spectacular from this point forward in the competition. Harry said Dexter's vocals on the song weren't that different from the original.
Caleb and Jena Irene teamed up for a duet of The Rolling Stones ' "Gimme Shelter." Demi thought they both nailed it.
Alex took on Ed Sheeran 's "The A Team," which was Dexter's idea. J-Lo said it was the perfect song choice. Keith said Alex responds to the music in such a way that he turns it into his own.
Jessica picked David Gray 's "Sail Away" for Sam. Harry called him a "work in progress," but in a good way. He thought the song fit Sam well. Keith noticed that Sam is getting more comfortable onstage. Jennifer said she could feel Sam trying to connect with the song.
Jessica, C.J. and Dexter joined forces on Lady Antebellum 's "Compass." Harry didn't mince words: he said it wasn't very good. Demi thought they were much better when they sang individually.
Jena ended the night with a Caleb choice: Radiohead 's first hit, "Creep." Keith loved the way she owned the song. Jennifer said it was beautiful. Harry said Jessica sings with humility and intrigue, and that it was the best performance of the night.
One of these finalists will be eliminated on Thursday night's results show, airing on Fox at 9 p.m. Eastern time.
Copyright 2014 ABC News Radio