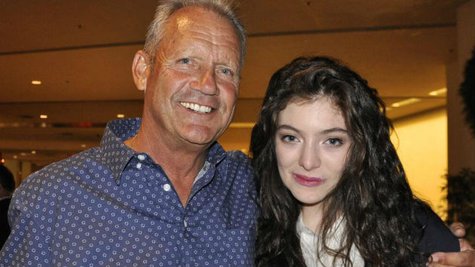 It's taken a while but former Kansas City Royals player George Brett has finally gotten to meet the teen whose international hit he inspired: Lorde .
Major League Baseball tweeted a photo of Brett , who was the inspiration for Lorde's #1 smash "Royals," posing with the singer, presumably backstage at one of her concerts. The Kansas City Royals organization also tweeted a photo of the two, writing, "And we've come full circle!"
Lorde wrote her Grammy-winning smash "Royals" after being inspired by a photo in National Geographic magazine of Brett wearing his Royals jersey. Last month, when she visited Kansas City, the Royals organization presented her with a copy of that particular magazine photo, signed by Brett, and he sent along an autographed Royals jersey for her with his name on the back. He couldn't be there in person, though, so the meeting this week was a long time coming.
Last year, Lorde told ABC News Radio, "The way I write is that I find a particular word or phrase which kind of defines the concept that I'm thinking about, and when I find that word, everything sort of clicks. And so I just cut that picture out of a National Geographic 'cause I thought it looked cool, and I thought, 'Yeah, that's a great word, I've got to incorporate that somewhere,' and it just kinda tied in with what I was thinking about."
Copyright 2014 ABC News Radio