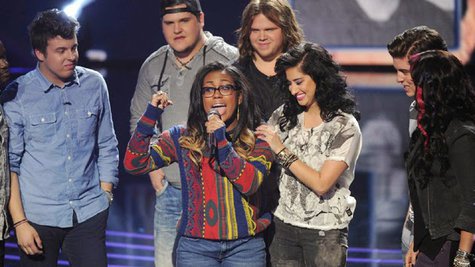 Malaya Watson , the Michigan teen who was eliminated from American Idol last week, was this season's youngest contestant, and the second-youngest ever to reach the live shows, after season 10's Lauren Alaina . While she admits that the Idol experience is "a lot harder than it looks," the 16-year-old says she'd still encourage other young people to try out, with one condition: your grades have to be good.
Speaking to ABC News Radio, Malaya says, "From the outside in, [ American Idol ] looks like so much fun, but then when you're in show business, you notice all the details of everything. It's a lot. It's a whole lot!" That's why any kid who wants to try out has to make sure they'll be able to simultaneously handle both their schoolwork and all the Idol commitments.
Asked if young teens like her should audition for the show, Malaya tells ABC News Radio, "If their school is good and they have time on their hands, then yeah, if that's something they want to do." But, she warns, "Don't do it while you got all this debt, and your grades look terrible, because then you're going to be bombarded with all this stuff plus American Idol ."
"You should do it when you're really comfortable with yourself and what you're doing, because that's the best time to do stuff," she adds.
While Malaya says that she grew considerably as a person and as a performer, thanks to being thrown headfirst into the grown-up world of Idol , she says that the rest of the finalists also have gotten much better since they started on the show.
"Trust me, if you knew everybody...everybody has improved in their own ways," she tells ABC News Radio. "So, there's no specific person that's in the lead. Everybody has just grown from that point to now."
Helping the contestants grow last week was American Idol season seven champ David Cook , who worked with the finalists as a mentor. Malaya says she'd like to see David appear on the show more often in that role.
"Oh yeah, he'd be a good mentor because he's, like, honest with all his opinions," she tells ABC News Radio. "He's very helpful and the man won, so he knows what he's talking about! He knows the highs and the lows about American Idol."
But as much as she liked David, there's another former Idol winner who Malaya would have killed to work with. "Fantasia. Oh my God!" she gushed. "I would really pee on myself!"
American Idol returns Wednesday night with a new theme: Competitors' Pick. For the first time in the show's history, each finalist will select a song for their fellow finalists to perform. Each contestant will therefore get a list of six songs from which to choose.
Copyright 2014 ABC News Radio