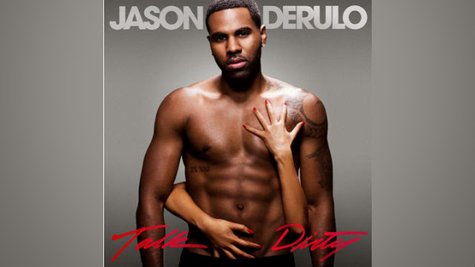 Jason Derulo is tired of being Mr. Clean. He says that with the release of his new album, in stores Tuesday, fans will finally be able to see the real him: the down and dirty Jason Derulo.
The title of the album is Talk Dirty, after his hit single of the same name, and the cover shows him stripped to the waist and being caressed by a pair of female arms -- and Jason says it's not just the cover and the single that are racy. "I want people to know that the rest of the album has, like, this dirty undertone," he tells ABC News Radio. "So this is the side of Jason that no one has met before. This is, like, the real me, and that's why the album cover is the way that it is. I just wanted to expose everything."
It seems Jason feels as though he's got a squeaky-clean image, and he thinks the sexier tunes on the album will change people's perceptions of him. "I think people have the wrong idea [about me]," he tells ABC News Radio. [But] it's cool. You know, it's cool for what it was. I was 19 when I first came out, so I mean, it's not a bad thing. It's a general progression, I think."
The issue right now, as Jason sees it, is that he's had a string of hit records, but his personality hasn't really come through on them. "There's that disconnect," he says. "People heard all these records, y'know, you've heard 'In My Head,' you've heard 'Whatcha Say,' you've heard 'Ridin Solo,'' 'It Girl,' all these songs, but you didn't really know who Jason Derulo was. And I feel like this album it really shows who I am."
The disc, which features guest appearances by Snoop Dogg , Tyga , 2 Chainz , Pitbull and Jason's girlfriend Jordin Sparks , was a long time in the making -- after all, he put out the first single, "The Other Side," a year ago. But Jason says waiting to put the album out was a calculated move on his part.
"I've already had three platinum singles off of this album and that's not really usual," he tells ABC News Radio, noting that most artists put their albums out after just one single. "I wanted to try something different this time and see what the response would be if I released three singles," he explains. "And [fans] would know that this album has so many different dimensions, and it goes in so many different areas. It's almost like this roller coaster ride."
Talk Dirty is Jason's first full-length album since he broke his neck during a dance rehearsal in early 2012. He says that the songs on the disc, in part, came from his own efforts to try to cheer himself up.
"The reason why I started making this album was a selfish reason. I wanted to get myself out of this dark place that I was in after my injury," he tells ABC News Radio. "And it was not about making a 'hit song,' it was not about making this 'hit album' -- it was just about me making myself feel better. And I think that selfishness, in turn, showed exactly who I am."
You can listen to the entire Talk Dirty album now; it's streaming on YouTube .
Copyright 2014 ABC News Radio