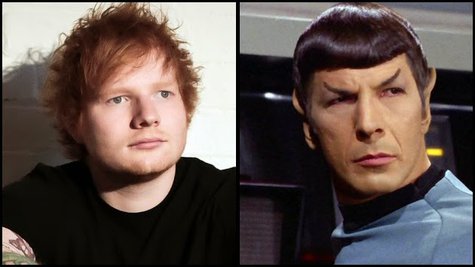 If Ed Sheeran 's new single "Sing" sounds perfectly logical to you, perhaps that's because it was reportedly recorded in the presence of the world's most famous Vulcan: Mr. Spock.
Sources tell the New York Daily News that when Ed and Pharrell Williams got together in the studio to record the song "Sing," veteran actor Leonard Nimoy , who plays Mr. Spock in the Star Trek TV series and movies, was in the studio. The source explains, "Ed was taken aback to see one of the greatest stars from sci-fi just sit and watch them at work. Pharrell tried to get him to do some vocal work in the studio, but he refused."
"Everyone knows that Ed likes his movies, and he was just stunned to be there with Leonard," the source adds.
A rep for Ed Sheeran told ABC News Radio that he had "no idea" if this story actually happened, but said it was "pretty funny."
If true, this wouldn't be the 83-year-old Nimoy's only connection to the world of current pop music. You may recall that a couple of years ago, he appeared in a video for Bruno Mars ' hit "The Lazy Song."
Copyright 2014 ABC News Radio