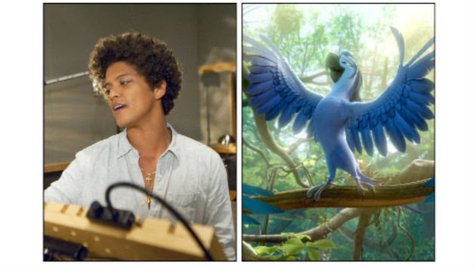 When he was just a little kid, Bruno Mars made a cameo appearance in the movie Honeymoon in Vegas . Now, he's returning to the big screen -- well, his voice is, anyway -- in the new animated sequel Rio 2, in theaters Friday. Bruno, who plays a suave jungle bird in the film, says, "It's everything you want in a movie."
The movie, set three years after the original, finds Blu and Jewel, the Spix's Macaws, married with three kids. They believe they're the last five members of their breed on the planet, but when they get word that there are more Spix's Macaws in Rio, they head to the Brazilian jungle to investigate. The remaining Macaws end up being members of the flock that Jewel -- played by Anne Hathaway -- used to belong to. It includes her dad, as well as Bruno's character, Roberto, her childhood friend. He's handsome, athletic and he can sing, and Jewel's dad kinda wishes she'd ended up with him, instead of Blu, played by Jesse Eisenberg . Soon, jealously rears its ugly head.
"I guess he's everything that Blu is not," Bruno says of Roberto. "Y'know, Blu is not from the jungle, he's a pet, so it's hard for him, he kind of sees him as a threat." And while Roberto does flirt with Jewel, he means no harm.
"He has a good heart, you know, he's a genuine dude, and he really has love for Jewel, genuine love. And you might think its coming from another place, but it's really not," Bruno explains.
As for why he decided to get involved with Rio 2 when he has so many other things going on, Bruno says, "I used to watch a lot of the old classic cartoons and when we got this phone call, it was kind of awesome." He adds, "It's nice to step away from music and do something totally different. And this has been an incredible experience." And Bruno thinks that watching the film will also be an incredible experience.
"You're doing an animated film in Brazil, which is already so colorful, [there's] incredible music, and then you have all these exotic animals, exotic birds in this movie," he gushes. "It's just a beautiful thing to look at, let alone it has a great story. It's everything you want in a movie!"
Other cast members in the film include Jamie Foxx , George Lopez, will.i.am , Janelle Monae, Tracy Morgan and Kristin Chenoweth.
Bruno is also featured on the Rio 2 soundtrack, performing a tune called " Welcome Back ." Unfortunately, he'll; be a bit too busy to head to a local theater to check out the film: he's currently on tour in Japan.
Copyright 2014 ABC News Radio