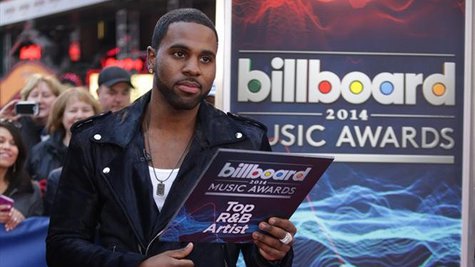 Jason Derulo has attended the Billboard Music Awards, but this year, when the show airs live on ABC on May 18, live from the MGM Grand in Las Vegas, he'll be one of the performers on the main stage for the first time -- and he says he can't wait.
"I just love performing in general. I don't see it differently," he tells ABC News Radio when asked if he tailors his performances for award shows to be special in any way. However, he adds, "The best part, honestly, is me thinking back to when I was a kid, you know, and I was watching all of these different award shows and being able to be a part of them now is a dream come true...So I'm just really excited to be a part of it, you know?"
While Jason isn't nominated for a Billboard Music Award this year, he did help read the nominees on ABC's Good Morning America on Wednesday morning. The nominees for the most prestigious category, Top Artist, are some heavy hitters: Justin Timberlake , Katy Perry , Miley Cyrus , Imagine Dragons and Bruno Mars . Who does Jason think will take the trophy home?
"That's a hard one. Especially, you know, I'm a fan of both Katy and Justin," he tells ABC News Radio. "That's a really tough one for me, but Justin did have an unbelievable year. So, it will be interesting to see."
Just because Jason isn't nominated doesn't mean he's lacking for hits: his current single, "Talk Dirty," is the third hit from his upcoming album of the same name, due out on Tuesday. While some artists claim not to care about how they're doing on the Billboard chart, Jason isn't one of them. He says he's constantly scouring the Hot 100 to see how his songs -- and even songs by other artists -- are doing.
"I'm the dude who's on Billboard constantly so I know what's going on at all times," he tells ABC New Radio. "Even in the off season, I still like to look at what's going on. I guess it's like a basketball player being in tune with everybody's stats. I don't know...for me, I like to know what people are liking. I like to know what people are into."
So far, people seem to be into "Talk Dirty." It's become one of the biggest hits of his career.
Watch Jason, and many other artists who'll be announced in the coming weeks, on the 2014 Billboard Music Awards May 18 on ABC.
Copyright 2014 ABC News Radio