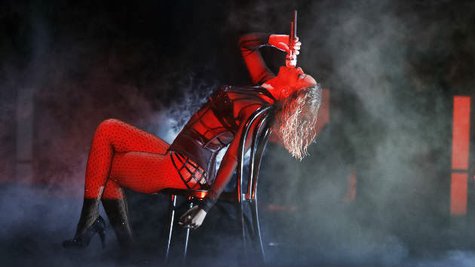 Who's the single most important individual in music today? According to People magazine, it's none other than Beyonce. She tops the magazine's list of five figures deemed "The 5 Most Important People in Music Now."
To bolster its argument, People write that Beyonce deserves the top spot for releasing her "surprise" album, along with videos for each track. By doing so, the mag writes, Beyonce "forever changed the release game." And, it adds, "Four months later, what really amazes is that Beyonce gets better and better with each listen."
Number two on People's list is Pharrell Williams , thanks to his involvement in the hits "Get Lucky" and "Blurred Lines," and his own Oscar-nominated chart-topping smash, "Happy." In addition, he works as a producer for seemingly every major artist, and he's joining The Voice as a coach next season.
Number three on People's list is, surprisingly, Avicii. Why? The Swedish producer and deejay behind the hits "Wake Me Up" and "Hey Brother" has "given EDM a sound and a face...that the masses can embrace."
There's another surprise at #4 -- it's Sia , the Australian singer/songwriter who's best known for her vocals on David Guetta's hit "Titanium" and co-writing songs for everyone from Rihanna, Christina Aguilera and Katy Perry , to Britney Spears , Celine Dion and Beyonce . She's releasing her own album in June.
In at #5 is rapper Kendrick Lamar , whom People says is "leading the West Coast rap renaissance." He's commercially successful, but the Grammy-nominated artist is also held in high regard by his peers. After he lost to Macklemore & Ryan Lewis at the Grammys, Macklemore famously texted him, "You got robbed."
You can read more details in People magazine's new issue, on stands Friday.
Copyright 2014 ABC News Radio