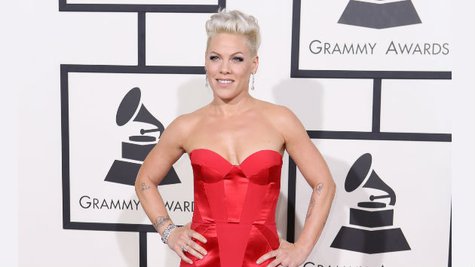 Not long ago, Pink wrote a letter that was posted on the website of PETA -- People for the Ethical Treatment of Animals -- in which she called for a ban on horse-drawn carriages in the streets of New York City, and promised to adopt one of those horses should the ban go through. Now, she appears in a new video, along with other celebrities, once again calling for the carriages to be taken off the streets.
Pink tweeted a link to the video, which is essentially a montage of celebrities all speaking out against the horse-drawn carriages, on the grounds that the horses are poorly treated. In it, Pink is pictured saying, "Every time I see a horse-drawn carriage with its nose in the tailpipe of a cab, and the blinders on, and all the pollution and the congestion and the traffic and the noise, it just hurts my heart."
Other stars featured in the video with Pink include Lea Michele , Kathy Najimy , Alec Baldwin , Game of Thrones star Peter Dinklage , Alicia Silverstone , Pamela Anderson , Chrissie Hynde of the Pretenders and Wendy Williams . It ends with New York City Mayor Bill de Blasio saying, "We're going to quickly and aggressively move to make horse carriages no longer a part of the landscape in New York City. They're not humane, they're not appropriate to the year 2014, it's over." He suggests that they be replaced with vintage-style electric cars.
Not every celebrity is in favor of banning the carriages: Liam Neeson , for one, has been quite outspoken about his desire to retain them, both as a "connection with our past," and because the end of the industry would mean people would lose their jobs.
Copyright 2014 ABC News Radio