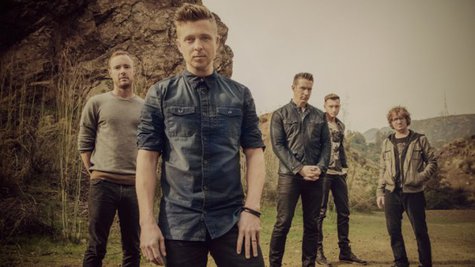 OneRepublic frontman Ryan Tedder has been talking about the band's new single, "Love Runs Out," in a number of interviews, and now we're finally getting to hear it...at least some of it, anyway.
The band has posted a lengthy clip of the tune on Soundcloud and has revealed that it'll be released on April 14. The hard-driving track has a feel similar to "Rumour Has It," the hit Ryan co-wrote and produced for Adele . It seems to be his proclamation that he loves bringing music to his fans, and has no plans to retire.
"I'll be your stadium/I'll be your 50,000 clapping like one/And I feel all right 'cause I worked it out/I'll be doing this/If you ever doubt/'Til the love runs out," Ryan sings, adding, "I got my mind made up and I can't let go/I'm killing every second til it saves my soul/I'll be running 'til the love runs out/and we start a fire and we shut it down/'Til the love runs out."
"Love Runs Out" does not appear on their current album, Native. As Ryan has explained, he was planning to include it on the album, and even make it the first single, but he just couldn't get it quite right.
During a concert in Amsterdam last month, Ryan told the crowd , "There was a song that was written about the same time, within two months of 'Counting Stars' that we thought [would be] the first single from the album. But I couldn't figure out what the chorus was, I couldn't finish it, and so we pushed it to the side. And then about month ago or two, Brent [our bass player] was like, 'Remember that song? You should finish that.'"
When they finally did, Ryan told the crowd, "We got so excited about it [that], y'know, it's not 1995, it's 2014. If you like a song, and you write it, you put it out. So that's what we're gonna do next...I like it as much as 'Counting Stars'...and I hope you do, too."
Ryan also told MSN Music UK that "Love Runs Out" is "like a jolt of adrenaline. It's rough round the edges, it's raw, it's aggressive, but it's got a spirituality about it. It feels like church but in a modern way."
Copyright 2014 ABC News Radio