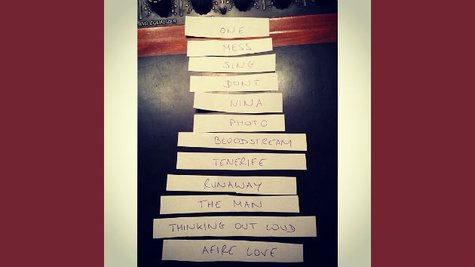 Now that he's debuted the first single from his forthcoming album, X, Ed Sheeran has unveiled the disc's track list via a post on Instagram that features all the song titles scrawled on pieces of paper and placed on what looks like the audio console of a recording studio.
Ed also tweeted that the deluxe version of the album will feature four additional tracks: "I See Fire," from the movie The Hobbit: The Desolation of Smaug, plus songs entitled "Take It Back", "Even My Dad Does Sometimes," and "Shirtsleeves." The disc will be available for pre-order on Friday.
Ed will perform "Sing" on Saturday Night Live this weekend. So far, the Pharrell- produced track, which sounds unlike anything Ed's done previously, has been a hit with fans. Ed tweeted, "Thank you so much for all the positive feedback on SING, please keep sharing, preordering and downloading :) you guys are da bomb xx."
The day the single was released, Ed's buddy Taylor Swift tweeted that she was "BLASTING @edsheeran 's insane new single in the car right [now]."
Here's the X standard album track listing:
"One"
"Mess"
"Sing"
"Don't"
"Nina"
"Photo"
"Bloodstream"
"Tenerife"
"Runaway"
"The Man"
"Thinking Out Loud"
"Afire Love"
Copyright 2014 ABC News Radio