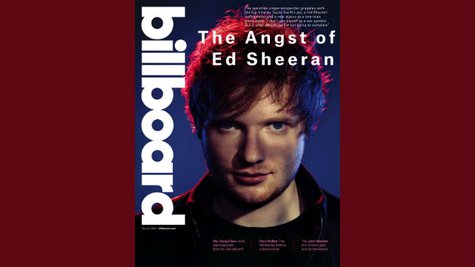 Ed Sheeran has taken a page out of the Taylor Swift book of songwriting with "Don't," a song on his new album x that's a vicious take-down of an ex-girlfriend who cheated on him with one of his pals. But as he tells Billboard, "If you date a songwriter, be prepared to have songs written about you....if you do f**ked-up things, you'll get a horrible song."
Ed tells Billboard that the song, which was going to be the album's first single but was switched at the last minute because it contains the "f" word, is about this girl he was "seeing for a bit of time." This woman, says Ed, "ended up physically involved with one of my friends in the same hotel that we were staying in, while I was downstairs."
The lyrics of the song are "100% true," says Ed. One of them goes, "I never saw him as a threat/Till you disappeared with him to have sex." Explaining his decision to write this sort of song, he tells Billboard, "I could have gotten nastier -- there was more s**t that I didn't put in...[but] If I show courtesy and respect to someone, I expect to receive it. When we're in the same hotel, and I'm downstairs at my party and you're upstairs doing that, that's disrespectful."
As for who this evil woman was, Rolling Stone reports that it was a musician but, Ed notes, "It's 100 percent not about Taylor [Swift]...I've never dated Taylor. I've dated a few singers, though." Ed has been linked to Ellie Goulding in the past, but that relationship was never confirmed.
Let this be a word of caution to Ed's current girlfriend. He won't name her, but contrary to recent reports, Ed told London's Capital FM, "She's not a model at all. Or a musician."
Copyright 2014 ABC News Radio